Gay couples cheered by supporters have begun marrying in New York City on the first day same-sex weddings are legal in the Empire State.
New York City officials expect to host hundreds of same-sex weddings Sunday. Clerks in New York City and about a dozen other cities statewide are opening their doors Sunday to cater to same-sex couples.
In Manhattan, the first of about 100 couples waiting in line on a sweltering Sunday began exchanging vows in a city clerk's office. Judges waived a mandatory 24-hour waiting period that allowed couples to exchange vows moments after receiving their licenses.
A small number of same-sex couples got married at the stroke of midnight around the state.
As soon as the Marriage Equality Act passed in New York, their friend Cara Forney explained, "Shane started plotting." He entered the lottery on the sly. Friends and family from Maine to Arizona, some of them on fewer than 48 hours notice, sped to New York to witness the couple as they ushered in the historic day.
Hoffman's father, Harrison, came from Maine — but he wasn't put off by the short notice in the least. Instead, the proud father, in a suit and pink tie, was beaming, along with his wife. Just a little while ago, he said, he had "never thought" about his son getting married. But "moments in history happen quickly," he said, and he was glad to be in New York for the occasion.
As the wedding party of about a dozen made their way into the chapel for a civil ceremony, they were met by Manhattan Supreme Court Justice Paul Wooten, who stood at the ready to waive the otherwise required 24-hour waiting period between a marriage license and a marriage. The room was plain but serene. Hoffman wore a jacket, and Godard had on a dress shirt and navy slacks.
"There is no other institution as strong as the union which you will form here today," Wooten told them.
Hoffman, struggling through tears, thanked his about-to-be husband "for being my light, my love."
"You believe in me like nobody ever has," Godard replied. "I will always be there for you."
Wooten told the two they were about to be married "in accordance with the laws of the state of New York," which elicited a few laughs, and then he made it official.
Hoffman and Godard kissed. Their families, slightly bleary from their travels, cheered and wept.
A crowd of about 150 people gathered at the LGBT Center in Manhattan's West Village Sunday night to toast to newlywed gay couples — and to the advocacy groups who helped earn them the right to marry.
The champagne was flowing in fluted glasses, flowers adorned the tables, and many in attendance wore blue sashes from the Empire State Pride Agenda that read "Just Married."
New York City Council Speaker Christine Quinn, speaking of same-sex marriage's opponents, said "they thought, I think because they talk about religion, that we lack faith."
But she warned those opponents that gay marriage "is the law of the land, and it is going to stay that way." Quinn thanked representatives from the groups that make up New Yorkers United For Marriage for "never losing faith."
State Senator Tom Duane, who sponsored the Marriage Equality Act, thanked all in attendance, and saluted the "biiiiiii-partisan" vote that made it a reality. His mention of Republican state senators who had supported the measure drew special applause.
Civil liberties activists say New York's legalization of same-sex marriage sends a message to the U.S. Congress that it must repeal the federal Defense of Marriage Act defining marriage as between a man and a woman.
"New York is sending a powerful message to the rest of the nation today as we once again lead the way for equal rights," said U.S. Senator Kirsten Gillibrand, a New York Democrat.
The first to be wed were Phyllis Siegel, 77, and Connie Kopelov, 85. The couple, who have been together for 23 years, emerged triumphant from the city clerk's office, and Kopelov, in a wheelchair, brandished their marriage certificate as a crowd of supporters cheered. "I am breathless," Siegel said. "I am happy."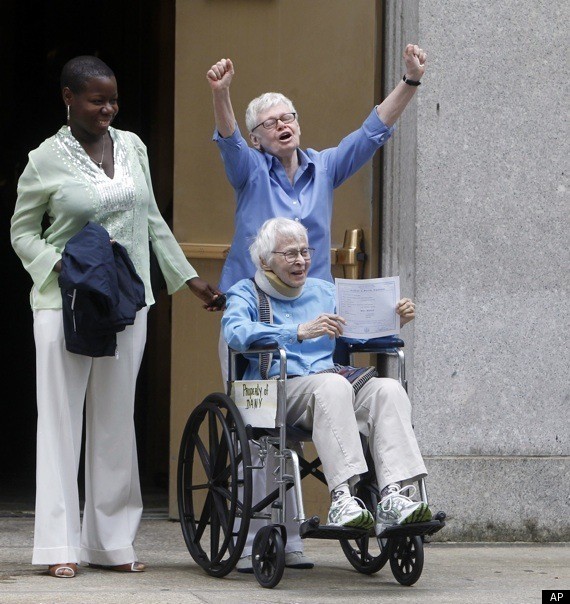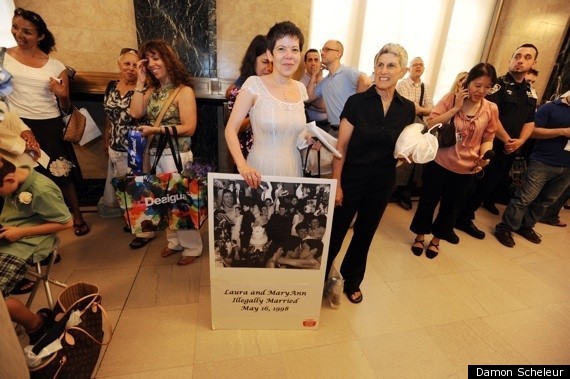 While in New York City the measure has been celebrated, protests are planned for later today in Buffalo, Rochester and Albany. The opponents of gay marriage want the governor Andrew Cuomo and members convene a referendum on the issue.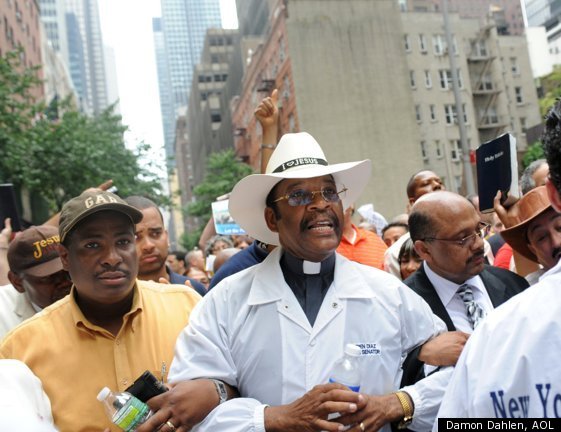 Groups of clergy and other opponents of the change staged a protest in front of Governor Cuomo's Midtown Manhattan office, warning that lawmakers who supported same-sex marriage would face punishment in upcoming elections.
A couple of Jewish boys bestiality protested with the theme: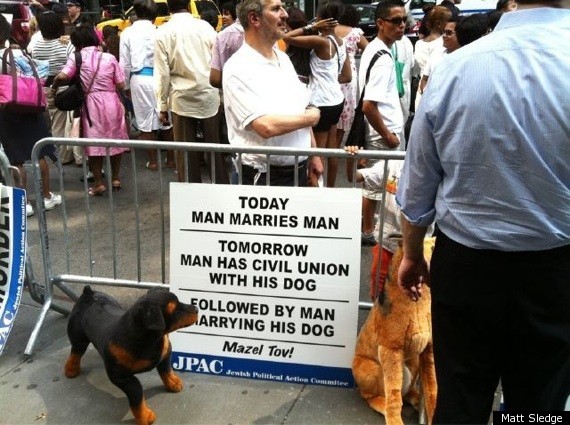 New York City Mayor Michael Bloomberg, who had pushed for same-sex marriage, officiated personally at the marriage of two men belonging to his City Hall inner circle on Sunday evening at Gracie Mansion, the mayor's official residence.
"Today in this city and in this state, history takes an important step forward by allowing every person to participate," Bloomberg said as he married John Feinblatt and Jonathan Mintz, accompanied by their daughters at the podium.
"Therefore by the powers vested in me by the state of New York, I pronounce you both married."
The Defense of Marriage Act was signed into law in 1996 by Democratic President Bill Clinton. U.S. President Barack Obama has said he would support a bill meant to repeal the law.
The law prohibits same-sex couples from receiving marriage-based federal benefits such as Social Security survivor benefits, health benefits and the right to file taxes jointly.
Officials estimate legalizing gay marriage would add some $400 million to New York's strained economy over the next three years.
Equality for all!
Curtir post

Twittar post
Comentar post